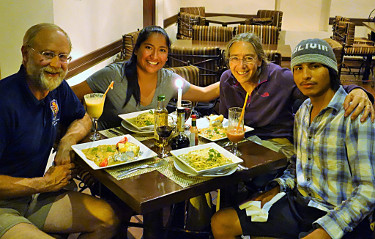 A Message from WSS's President,
Mark Otto

To the Washington, DC Statistical and Data Science Community,
Before my wife and I adopted our kids from Bolivia, we joined an adoption support group that helped us navigate the adoption process. We became very involved with this group as volunteers and, with the help of many families, formed a community that created a supportive environment for our families and nurtured our children's birth cultures. The group gave us support outside our adoption agency and as well as a wider perspective of living as a multi-racial family. Our group even helped the State Department contribute to language in an international adoption treaty.
What does this have to do with the Washington Statistical Society (WSS)? The experiences you invest in outside your job can have a tremendous influence on your understanding of people, how you engage in larger purposes, and ultimately, the lifetime contributions you make. The WSS offers seminars and workshops that can not only build your technical skills but also your interest and enthusiasm. We are also a community supporting each other with programs that include mentoring, collaboration, and statistical leadership. Finally, we provide volunteer opportunities to mentor, participate in Quantitative Literacy programs, and try out leadership opportunities not available in your job.
This past year, the WSS adapted to the world of online meetings and have drawn much larger audiences than in-person gatherings before the pandemic. As we emerge from COVID-19 isolation and dust ourselves off this summer, we are adjusting to a new reality. More than ever we have a need to connect with community. The WSS is one that is as strong as ever. Come meet a good group of people and join a thriving community - you just might get more than you give.
Sincerely,
Mark Otto
WSS President, 2021─2022