Join the Washington Statistical Society
The WSS Brochure contains a summary of WSS activities. Click here to access the WSS Brochure (pdf) in the document library.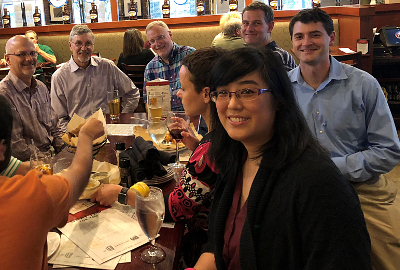 September 18, 2018 WSS social event
Full Membership
Offered to those persons who are members of the American Statistical Association (ASA).
To Join WSS As A Full Member:
Not currently an ASA member:



You must join the ASA. Phone the ASA office at 703-684-1221 for an application or obtain one from the ASA website. You may also join the ASA online.


Check the box for Washington Statistical Society (DC Metro Area) in the Local Chapters membership area on the application.


Write your check to the ASA to cover both the ASA dues and the WSS annual dues.



Already an ASA member:



Log into the "Members Only" area of the ASA website


Choose "Renew Membership", then "Select Chapters", then


Under "District of Columbia", choose "Washington Statistical Society"


Select an online payment option.
Associate Membership
Includes almost all benefits of full membership (the exception is that associate members do not have the right to hold office).
Many associate members are active in other professional societies. Their interests in the statistical programs in the metropolitan area often tie in with their profession.
To Join WSS As An Associate Member by mail:
Download and complete the application (available as a pdf file).


Enclose a check for your dues in the amount of $15.00 (or $3.00 for students).


Mail it to WSS.

To Join WSS As An Associate Member online:
Access the online form and follow the instructions.