Welcome to the Washington Statistical Society
If you work with statistics in the metropolitan Washington DC area, we encourage you to join the Washington Statistical Society (WSS).
The WSS is the largest, most active chapter of the American Statistical Association (ASA) with over 900 members. Our members work in the government, academic, and private sectors, spanning many disciplines. Members' interests and expertise cover an extensive range of areas in applied and theoretical statistics, data collection, survey methods, and allied subjects.
---
Please visit the WSS Seminars page and the Short Courses page, and join us at MeetUp@WashStat.
---
LGBT Population Measurement Issues
Date and Time: Tuesday, October 6th, 2015, 1-4pm
Moderator: Carl Ramirez, GAO
Discussant: Nancy A. Bates, Census
Location: Bureau of Labor Statistics Conference Center
WebEx: Click here
Audio1-866-747-9048 (US) or 1-517-233-2139, PIN 938 454 2

...Click here for abstract and more details
---
Recovering Microdata of the 1950's through the 1980's from the Census Bureau's Last Unisys Mainframe
Date and Time: Thursday, October 22, 2015, 12:30-3:00pm
Moderator: Pam McGovern, National Agriculture Statistics Service
Location: Bureau of Labor Statistics Conference Center
WebEx: Click here
Audio1-866-747-9048 (US) or 1-517-233-2139, PIN 938 454 2

...Click here for abstract and more details
---
Job Opportunity: Biostatistician - Staff Fellowship
| | |
| --- | --- |
| | Become a part of the Department that touches the lives of every American! At the Department of Health and Human Services (HHS) you can give back to your community, state, and country by making a difference in the lives of Americans everywhere. It is the principal agency for protecting the health of all citizens. Join HHS and help to make our world healthier, safer, and better for all Americans. |
The Food and Drug Administration (FDA), Center for Veterinary Medicine (CVM), Office of Research, National Antimicrobial Resistance Monitoring System (NARMS) Team is seeking a qualified applicant for the position of Biostatistician. The National Antimicrobial Resistance Monitoring System – Enteric Bacteria (NARMS) is a national public health surveillance system in the United States which tracks changes in the susceptibility of certain enteric bacteria to antimicrobial agents of human and veterinary medical importance. NARMS monitors antimicrobial susceptibility among enteric bacteria from humans, retail meats, and food animals. This position will be filled through the Staff Fellowship program and may be subject to Peer Review. Appointment is for two years with opportunities for renewal.
As a Biostatistician, you will collaborate with microbiologists, epidemiologists, and a bioinformatician within the Office of Research to formulate specific experimental designs and identify the appropriate statistical tools for use in research studies focused on antimicrobial use and resistance. You will use various statistical approaches such as longitudinal analysis, mixed effect modeling, logistic regression analysis, and model building techniques and manipulate and analyze data using statistical packages such as SAS to draw conclusions and/or make predictions based on data summaries or statistical analyses. You will provide your statistical expertise to evaluate research protocols from a statistical perspective and recommend appropriate statistical analyses. You will help to maintain the NARMS database and ensure the validity of the reported results and their statistical interpretation.
Applicants must have demonstrated ability to effectively guide the statistical aspects of research protocol design, data interpretation, review and reporting of results for multiple studies and have experience with application of advanced statistical methodologies to research design/analysis. You must also be proficient in statistical software tools such as SAS and be able to communicate statistical concepts in a clear and concise manner.
This position is located in Laurel, Maryland and is available immediately. The salary range is from $90,823 to $139,523 based on experience and education. Further information regarding qualification requirements can be found at the following link: http://www.opm.gov/policy-data-oversight/classification-qualifications/general-schedule-qualificationstandards/1500/mathematical-statistics-series-1529/
**Applications will be reviewed and interviews will be scheduled on a first come, first serve basis.**
Please submit your letter of interest, resume, and transcripts to: CVMOpportunities@fda.hhs.govwith the subject line of "Biostatistician-NARMS". Questions may also be directed to the CVM Opportunities mailbox
---
Hansen Lecture, 17 November 2015
The 25th Annual Morris Hansen Lecture will take place on Tuesday, November 17, 2015, 3:30-5:30pm, at the Jefferson Auditorium at the US Department of Agriculture on Independence Avenue (between 12th and 14th streets). This year's Hansen Lecturer will be Professor Steve Thompson of Simon Fraser University, speaking on "Adaptive and Network Sampling in Changing Populations". There will be two Discussants, Professor Mark Handcock of the University of California at Los Angeles, and Professor Andrew Gelman of Columbia University. After the lecture and discussions, at 5:30pm, there will be a reception in the Whitten Building Patio.

The Hansen Lecture is jointly sponsored by WSS, WESTAT and NASS.

The Hansen Lecture Committee chair is Eric Slud, Area Chief, Center for Statistical Research and Methodology, US Census Bureau, and Professor, Statistics Program, Mathematics Department, University of Maryland College Park Phone: 301.763.4991
---
Newsletter Deadline is the 20th of the Month!
The deadline to get articles into the next newsletter is the 20th of each month. Please send your input in MS Word or plain text to the WSS Newsletter Editor, Colleen Choi. Please do not submit your items in pdf or in the body of an email.
The Current edition of the WSS Newsletter is available. Click here to read it. WSS members receive our monthly newsletter, which includes announcements and descriptions of forthcoming technical programs, short courses, and social events. It also provides an employment column, publicizing job openings and describing credentials of members seeking employment.
---
WSS and George Mason University Sponsor a Mock Advanced Placement (AP) Statistics Exam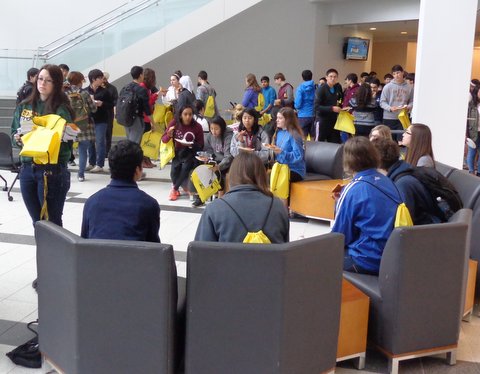 Students from local area high schools, accompanied by their teachers, gave up their Saturday morning to take an exam hosted by the Department of Statistics and proctored by members of the George Mason University Stem Education Club on April 25. More than 160 students from eight local high schools practiced their statistical knowledge by taking a mock Advanced Placement (AP) statistics exam, which served as real-time practice for the test that will be administered in early May by the College Board. High schools participating in the event were: Fairfax, Herndon, Oakton, John Champe, W.T. Woodson , Stonewall Jackson, Osbourne Park and Robinson.
---
Curb-stoning Part III Group Photos
The WSS Seminar of Curbstoning III was an exciting success. Curb-stoning is a colloquialism for the practice of statistical enumerators and their supervisors to fabricate respondent data. Their techniques may be clever and even sophisticated. The speakers discussed the motives for curb-stoning, programs to detect its occurrence, and methods to discourage its practice.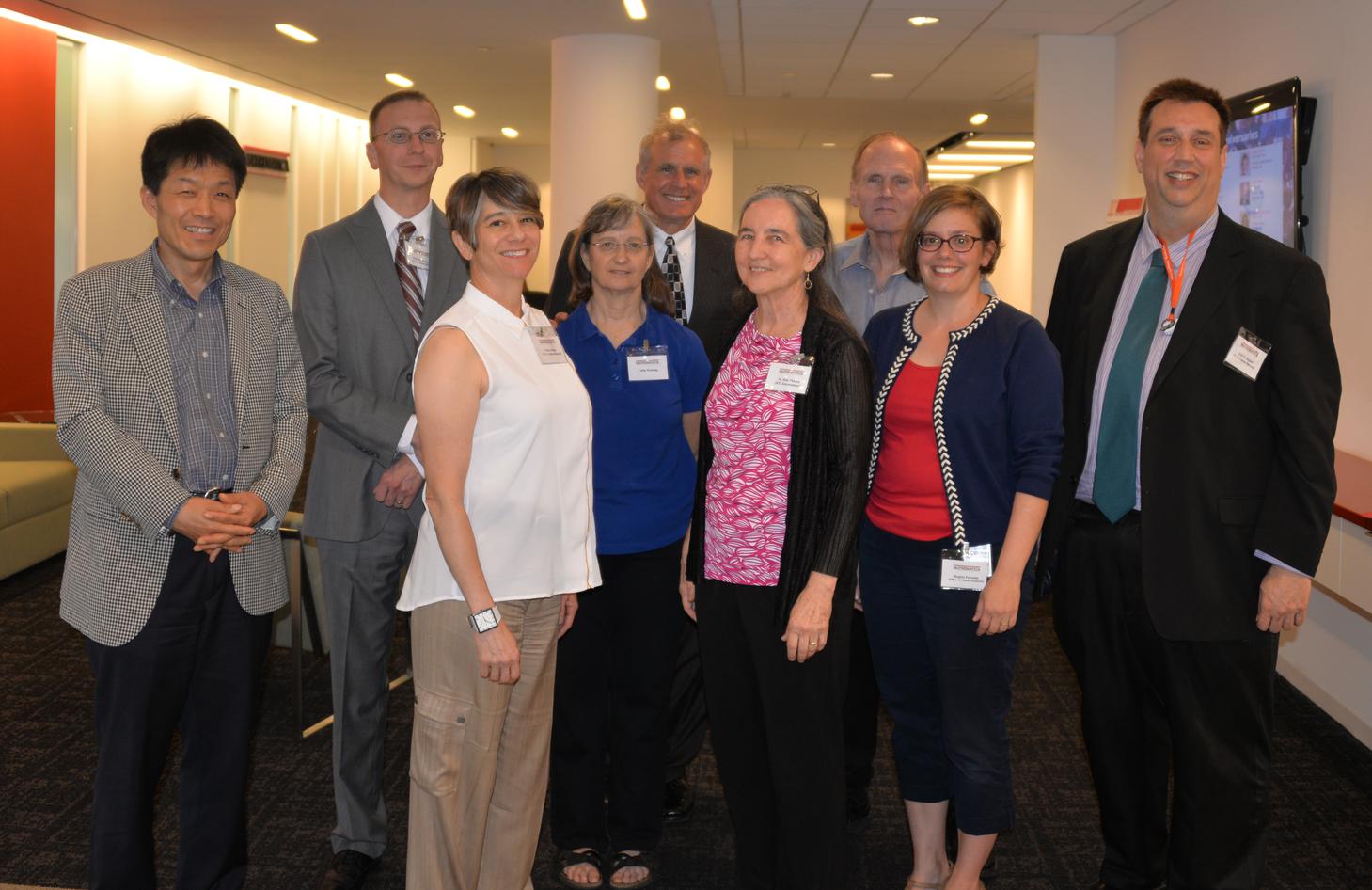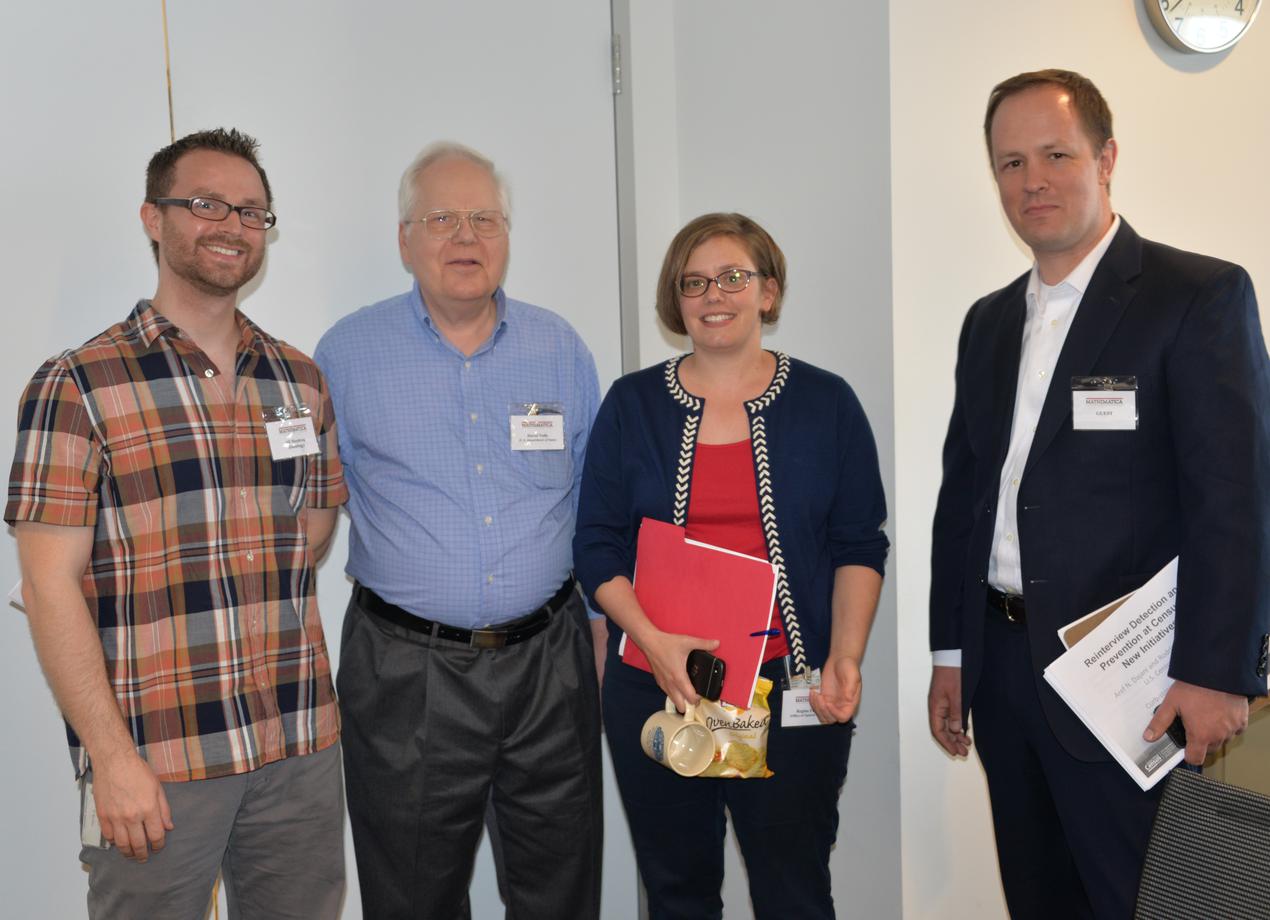 ---
Griffith Mentoring Award Presentation
The Jeanne E. Griffith Mentoring Award Selection Committee is pleased to announce this year's awardee is Aldo (Skip) Vecchia, a Research Statistician with the US Geological Survey.
A ceremony to officially bestow the award and to celebrate the award and Skip's accomplishments is scheduled for June 10 at 1645 to 1800 (approx.) at the Conference Center, Bureau of Labor Statistics (directions below). Refreshments will be served after the ceremony. We hope you can attend.
RSVP to Bill Mockovak at Mockovak_W@bls.gov. We need your name and affiliation for the list at the guard station.
Please click here to learn more about the Jeanne E. Griffith Mentoring Award.
Directions
Bureau of Labor Statistics
Postal Square Building
2 Massachusetts Avenue, NE
We recommend taking Metro to Union Station. Please allow time to pass through security.
We hope to see you there. Please contact Carol House at chouse@nas.edu with any questions.
Lillian S. Lin, PhD
Co-chair (with Carol House)
Jeanne E. Griffith Mentoring Award Selection Committee
---
Election winners for 2015-16 WSS Board:
President-Elect: Michael Larsen, George Washington University
At-Large Members:

Wendy Barboza, National Agriculture Statistics Service and
Erin Tanebaum, NORC at University of Chicago

Methodology Chair-elect: Pam McGovern, National Agriculture Statistics Service
Secretary: Darcy Miller, National Agriculture Statistics Service
I want to thank all of the nominees who agreed to stand for various offices. I also want to thank the WSS members who submitted names along with members of the nominations committee who helped vet such an outstanding pool of nominees. Finally, thanks to Westat and at-large board member Tom Krenzke for help running the election – the Society is very grateful for the pro-bono services they provided. We look forward to welcoming the new members at the June 23rd meeting of the Board.
— Nancy Bates, Past-President and Chair of the Nominations Committee
---
2015 Curtis Jacob Memorial Award for Outstanding Statistics Projects
The Curtis Jacobs Award for outstanding statistics project is an opportunity for fun, experience, and recognition – great for college applications and teacher development. It aims to encourage middle school and high school students to gain an understanding of the design of statistical studies and their uses. One of the intents of the award is to bring awareness and reward to school teachers. Nominations for the Curtis Jacobs Award are now being accepted. Deadline is Friday, 22 May 2015.
…Please click here for more details
---
WSS Participant Photo: ICES-IV Presentations, 4 Feb 2015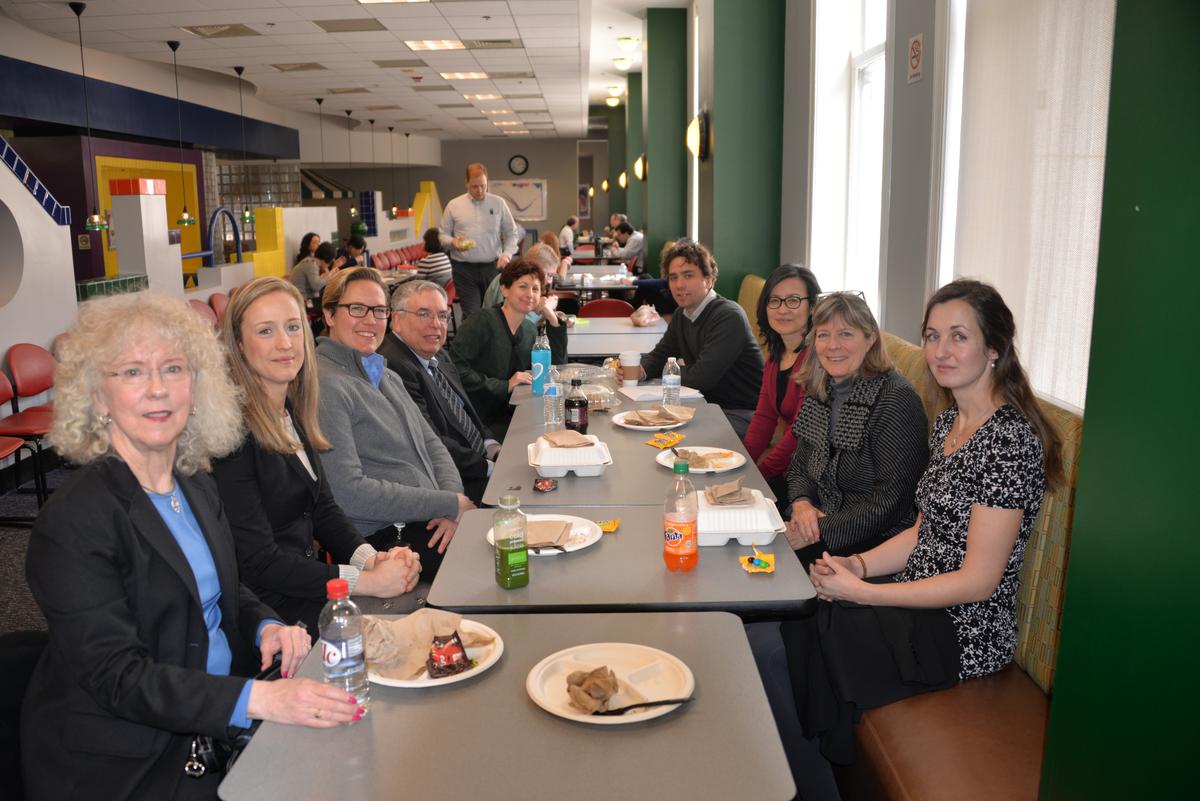 ---
WSS Mentoring Program
---
University Students: Be a Science Fair Judge!
---
WSS K-12 Poster Competition Announcement
The Washington Statistical Society, in collaboration with The American Statistical Association runs a Statistical Poster Competition for school children in grades K-12 in the Washington DC metro area. This is part of the Poster competition run by ASA with the WSS judging and awarding prizes to local children. There are four age groups and children may work singly or in small groups under the supervision of a teacher or guide.
Winning entries of the WSS competition are automatically advanced to the second round of the national competition where they may win addition prizes and recognition. Local area winners and their guides/teachers are invited to attend the WSS annual dinner as guests to receive their prizes. Our aim is to encourage a new generation of children to explore the exciting world of math and statistics. The deadline for entries is April 1 2015. For additional information or questions please contact Barnali Das.
...Please click here to view the flyer.
---
Call for Papers: Big Data and Public Policy
The Journal of Policy Analysis and Management (JPAM) invites the submission of manuscripts for a special symposium on "Big Data and Public Policy.". Initial submissions for this symposium will be accepted until May 15, 2015.
Please visit The Journal of Policy Analysis and Management (JPAM) for details on submissions, and The JPAM Big Data and Public Policy Workshop page for details on the workshop.
---
American University Info-Metrics Institute Training/Tutorial Short Classes
18-22 May & 25-29 May 2015
May 18 - 22, 2015
Nonparametric Kernel Methods for Practitioners across the Sciences
Jeffrey S. Racine (McMaster University)


May 25 – 29, 2015 Interdisciplinary Applications of Microeconometrics
William Greene (New York University)
For specific topics studied in these classes see the AU web page
Registration opens soon. Space is limited. To register in advance or for more information on these courses, please visit our Info-Metrics Summer Program web page, or contact Yang Liu at info-metrics@american.edu
Info-Metrics Institute
American University
4400 Massachusetts Ave NW, Kreeger 104
Washington, DC 20016-8029
http://www.american.edu/info-metrics
---
2015 Morris Hansen Lecture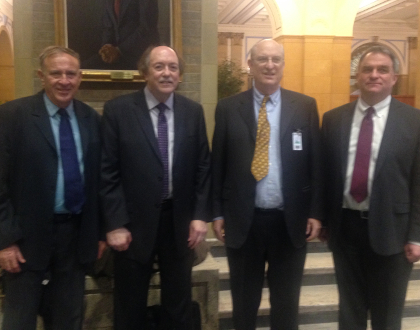 The 2015 Morris Hansen lecture took place on 20 January 2015. Danny Pfeffermann spoke on "Methodological Issues and Challenges in the Production of Official Statistics". Discussants were Lawrence Brown, Professor of Statistics, Wharton School, University of Pennsylvania and John Eltinge, Associate Commissioner for Survey Methods Research, Bureau of Labor Statistics.
---
Nominations Sought for 2015 Herriot Award
Nominations are now being accepted for the 2015 Roger Herriot Award for Innovation in Federal Statistics until 1 April 2015. The award is intended to reflect the special characteristics that marked Roger Herriot's career including:

Dedication to the issues of measurement;
Improvements in the efficiency of data collection programs; and
Improvements and use of statistical data for policy analysis.

Please click here for information on the award and how to nominate.
---
2014 Gertrude Cox Award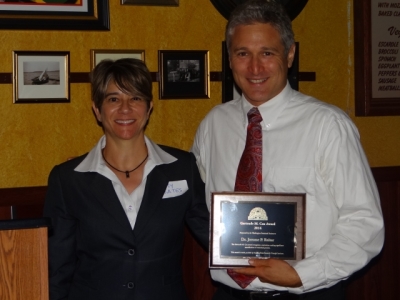 ---
WSS Video: Doug Tyson on Statistics Education as Part of the Common Core