Welcome to the Washington Statistical Society
If you work with statistics in the metropolitan Washington DC area, you owe it to yourself to belong to the Washington Statistical Society (WSS).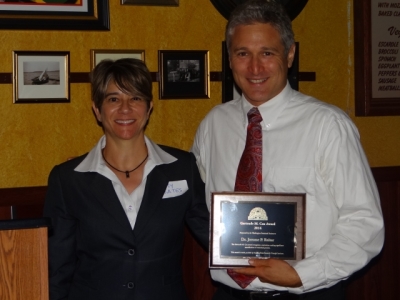 The WSS is the largest, most active chapter of the American Statistical Association (ASA) with about 900 members. Our members work in the government, academic, and private sectors, spanning many disciplines. Members' interests and expertise cover an extensive range of areas in applied and theoretical statistics, data collection, survey methods, and allied subjects.
WSS offers opportunities to:
network with colleagues in your field,
increase the level of quantitative literacy in area schools,
continue your own statistical education,
help to develop the next generation of statisticians,
participate in numerous seminars and workshops,
recognize your colleagues' important contributions, and
offer your expertise in volunteer or elected roles.
Our activities include a large and varied technical seminar program, short courses, social events, and service opportunities. WSS members receive our monthly email newsletter (The WSS News), with announcements and descriptions of forthcoming events, volunteer opportunities, and listings of job openings and job-seeking members' credentials. Our website provides information on additional events, WSS contacts, and a WSS history.
Annual Dues
ASA member $10 (Full)
Non-ASA member $10 (Associate)
Student $3
To Join WSS
Access the associate membership form by
clicking here
, or send a check (payable to WSS) to:
WSS, P.O. Box 2033, Washington, DC 20013.
Include: name, ASA number (if ASA member), mailing address, and Email address.
Please feel free to contact me (by email: Dherz@mathematica-mpr.com, by phone: 202-250-3529) if you have any questions about membership or participation in WSS. We encourage you to join WSS either as a member or as a volunteer!
---
July/August 2014 Newsletter
The July/August edition of the WSS Newsletter is available. Click here to read it. WSS members receive our monthly newsletter, which includes announcements and descriptions of forthcoming technical programs, short courses, and social events. It also provides an employment column, publicizing job openings and describing credentials of members seeking employment.
---
Seminar Postponement: Note that the seminar planned for 30 September 2014, "Costs vs Benefits: The 2014 Content Review of the American Community Survey", has been postponed. An announcement of a new date will be made shortly.
October 28, 2014
WSS Seminar on the Consumer Price Index
October 31 & November 1, 2014
Info-Metrics Institute Fall 2014 Seminar: Recent Innovations in Info-Metrics
April 1, 2015
ASA K-12 Student Poster Competition
---
19 August 2014: ASA PR Campaign Launches This Week
The ASA public relations campaign-designed to increase interest in the field of statistics and recruit the next generation of statisticians-launched August 19. The "This is Statistics" campaign will educate students, parents, teachers, and counselors about the abundant and well-paying career opportunities in statistics. The informational website features videos of "cool" statisticians doing interesting work, career and salary information, sectors that employ statisticians, and an interactive map of select organizations across the world at which statisticians work.
We encourage ASA members to share the website link with friends and colleagues, follow the latest news on Twitter, find additional information on Facebook, and view campaign videos on YouTube. The more we spread the word, the more we can correct the frustrating misconceptions about statistics. Contact Jeff Myers with your questions or comments.