Welcome to the
Washington Statistical Society
If you work with statistics in the metropolitan Washington DC area, you owe it to yourself to belong to the Washington Statistical Society (WSS).
The WSS is the largest, most active chapter of the American Statistical Association (ASA) with about 900 members. Our members work in the government, academic, and private sectors, spanning many disciplines. Members' interests and expertise cover an extensive range of areas in applied and theoretical statistics, data collection, survey methods, and allied subjects.
---
Please visit the WSS Seminars page and the Short Courses page, and join us at MeetUp@WashStat.
---
Hierarchical Bayesian Methods for Combining Estimates from Multiple Surveys
Date/Time: January 30, 2015, 12:30pm to 1:30pm
Speaker: Adrijo Chakraborty, NORC
Chair: Mike Fleming
Sponsor: WSS Methodology Section
Location: Bureau of Labor Statistics Conference Center
Abstract:
In order to estimate the number of occupied households, US Census Bureau conducts many surveys. As a result, we get different estimates of the number of occupied households from these surveys. While each survey is useful, differences among the estimates they produce are sometimes very large. To resolve these differences, we propose a hierarchical Bayesian method to obtain a more reliable estimate of the number of occupied households by combining estimates from these surveys. We apply our method to the estimates from Current Population Survey (CPS)/Annual Social and Economic Supplement, CPS/Housing Vacancy Survey, American Community Survey, and American Housing Survey between 2002 and 2011 to produce a more reliable estimate of the number of occupied households.
Click here for more details...
---
Don't Count on Poisson! Introducing the Conway-Maxwell-Poisson Distribution to Model Count Data
Speaker: Kimberly Sellers, Georgetown University, Department of Mathematics
Time: Friday, January 30th, 11:15 am - 12:15 pm
Place: George Washington University, Duques Hall, Room 651 (2201 G Street, NW)
Abstract:
Count data have become widely pervasive in various applied fields requiring data collection, including surveys, environmental studies, disease surveillance, and genetic studies. Classical statistical methods surrounding count data center around the Poisson distribution and associated methodologies, whose assumption is that the mean and variance equal. Real data, however, violate this basic principle in that the dataset displays some form of dispersion. The Conway-Maxwell-Poisson (COM-Poisson) distribution is a flexible alternative for count data that not only contains three classical distributions as special cases, but can more broadly accommodate either over- and under-dispersion. As a result, it has served as a motivating distribution for generalizing many classical statistical methods to allow for dispersion, including regression analysis, control chart theory, and stochastic processes. This talk will highlight some of these areas, and demonstrate their use in various applications.
---
Newsletter Deadline is the 20th of the Month!
The deadline to get articles into the next newsletter is the 20th of each month. Please send your input in MS Word or plain text to the WSS Newsletter Editor, Colleen Choi. Please do not submit your items in pdf or in the body of an email.
The January edition of the WSS Newsletter is available. Click here to read it. WSS members receive our monthly newsletter, which includes announcements and descriptions of forthcoming technical programs, short courses, and social events. It also provides an employment column, publicizing job openings and describing credentials of members seeking employment.
---
2015 Morris Hansen Lecture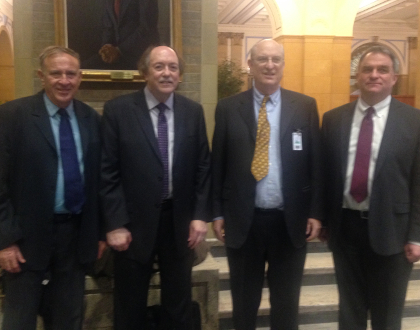 The 2015 Morris Hansen lecture took place on 20 January 2015. Danny Pfeffermann spoke on "Methodological Issues and Challenges in the Production of Official Statistics". Discussants were Lawrence Brown, Professor of Statistics, Wharton School, University of Pennsylvania and John Eltinge, Associate Commissioner for Survey Methods Research, Bureau of Labor Statistics.
---
WSS Mentoring Program
The Washington Statistical Society has recently started a mentoring program. Both sides of mentoring can be enriching at any point in your career. If you are interested in acting as a mentor or in seeking a mentor, please contact:
---
Nominations Sought for 2015 Herriot Award
Nominations are now being accepted for the 2015 Roger Herriot Award for Innovation in Federal Statistics until 1 April 2015. The award is intended to reflect the special characteristics that marked Roger Herriot's career including:

Dedication to the issues of measurement;
Improvements in the efficiency of data collection programs; and
Improvements and use of statistical data for policy analysis.

Please click here for information on the award and how to nominate.
---
New Awards Page
| | |
| --- | --- |
| | The Washington Statistical Society presents several awards throughout the year. The WSS Awards Page lists information on each award and the nomination and awards process. |
---
New Science Fair Page
| | |
| --- | --- |
| | The spring season brings science fairs to the region, which showcase the talent and aspirations of the remarkable students in our schools. The Washington Statistical Society has traditionally provided invaluable community support to these important events by nominating and sending delegations of official judges, who serve as representatives of our profession. |
---
2014 Gertrude Cox Award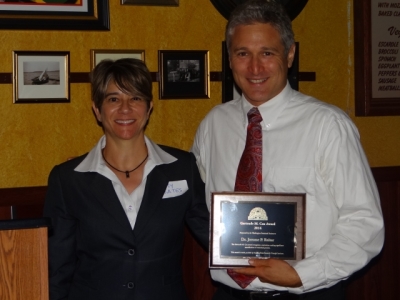 ---
WSS Video: Doug Tyson on Statistics Education as Part of the Common Core